What is Horizon 2020? 
Horizon 2020 is the financial instrument implementing the Innovation Union, a Europe 2020 flagship initiative aimed at securing Europe's global competitiveness. Horizon 2020 aims to achieve this by supporting excellent science, industrial leadership and by tackling societal challenges.
The programme will be running for 7 years from 2014 until 2020 and has an overall budget of nearly 80 B€. 
For a general presentation, watch this video! 
What are the main priorities? 
EU funding for research and innovation will be focused on three main priorities: 
The primary aim of Horizon 2020 is to strengthen the EU's position as a world leader in science, to help make Europe a more attractive location to invest in research and innovation and to bring excellent research results to market which will deliver direct benefits to citizens, such as affordable health-care, protection against cyber crime, and the transition to a resource-efficient, low-carbon economy.
Horizon 2020 structure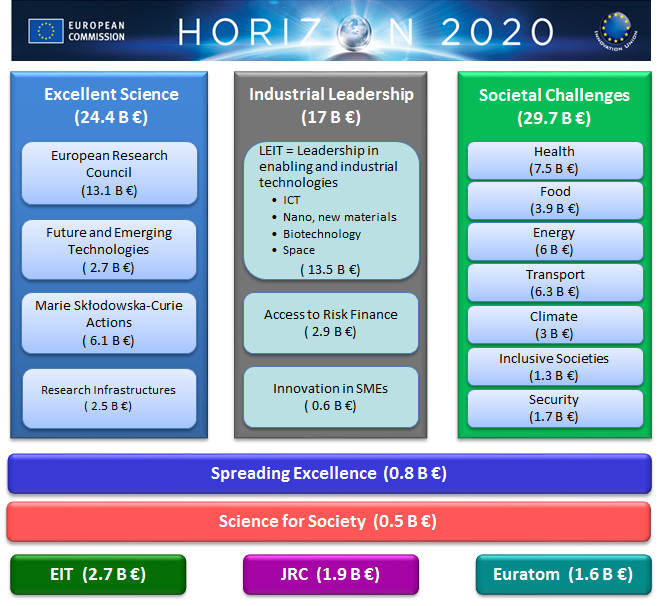 Horizon 2020 and CERN
Participating in European Union projects strengthens CERN's existing collaborations and creates new links with European universities, research institutes, laboratories and industrial partners, complementing the main R&D programmes of the Organization. 
If you are interested in proposing or participating in an EU project, please consult the Open Calls or contact the EU Projects Office.